Как установить Spectrasonics Stylus RMX
Как вы догадались, речь пойдёт о компьютерах. Точнее, о программном обеспечении. Ещё точнее — о работе со звуком на персональном компьютере, под управлением ОС Windows 7.
Примечание 2019 года: судя по опыту моих знакомых музыкантов, под Win10 софт работает заметно стабильнее.
Один из признанных лидеров среди софтовых синтезаторов и виртуальных инструментов — брэнд Spectrasonics. Знатокам ничего объяснять не надо; люди, далёкие от цифрового сочинительства, об этом вообще знать не должны; а вот начинающим заканчивать , типа автора этих строк, статья сбережёт массу времени и нервов. Что делать, вот такой он полезный, сайт нашего всего. Итак.
Как установить Spectrasonics Stylus RMX
Представляю ваше расстройство, когда на руках почти 15 гигабайт великолепных пользовательских библиотек от лучшего в отрасли производителя и они — не звучат. И вообще, не видны в программе. Неделя загрузки, ожидания, предвкушения.
А всего-то навсего, необходим один текстовой файл. Обратите внимание на скриншот. Файл называется «order.txt». В нём должен быть указан список всех директорий (папок), которые вы поместили в пользовательскую директорию «User Libraries».
Жёсткий диск для размещения библиотеки может использоваться любой. Однако, путь желательно использовать именно тот, что указан в верхней части скриншота: «ProgramData» → «SAGE» → «SAGE Libraries» → «User Libraries». Далее, достаточно создать искомый текстовой файл (у меня он отсутствовал после инсталляции) и прописать в нём все названия директорий с пользовательскими пресетами. Вложенные папки прописывать не нужно, только первый уровень, после «User Libraries». Каждое название — с новой строки.
Для наглядности
Приведу список из своего файла. Можете, кстати, скопировать его и просто удалить лишнее. Мне на эту писанину понадобилось более получаса.
30
Acoustic New
Action Drums
Afrolatin Slam
Ambient Alchemy
Bass Loops
Brass Set
Chemical Beats
Chemical Synths
Chi Town RMX
Cuckooland Unhinged
Demand Drums Vol.2
Demand Drums Vol.5
Dholki
Discovery Firm reggae one way
Distortion & Fuzz
Drum Loops
Drumbreaks
DrumStyles
Effects
Electro Magnetic Pulse
Ethnic Flavours
EW Joey Kramer Converted REX files for RMX
Funk City
Funk Construction
Funk Guitar
Funky
FX Loops
Grinding Beats
Guitar Loops
Hardcore Breakbeat Action
Hip Hop & Swing Breakdown
House & Garage Construction
Keyboard
Loopmasters-Afro Latin Producer
Loopmasters-Downbeat Leftfield
Loopmasters-Drum & Bass Masterclas
Loopmasters-Electro Breaks
Loopmasters-Jazz World
Loopmasters-Lounge Chillout
Loopmasters-Producer Essentials
Loopmasters-Raw Power
Loopmasters-Urban Soul
M-Audio Funky Beats
M-Audio Junkyard
M-Audio Late Nite
M-Audio One Big World
M-Audio Rice and Beans
M-Audio Underground Sound System
Percussion Classic
Rare Groov
Reggae Connection
Return To Planet Of The Breaks
Rhythm Guitar & FX
RMX 160dB Drum&Bass Interface
Sax
Smokers Delight — CD2
Stark Raving Beats
Synth Loops
Vocal Planet
Voice
Wah
Это всё. Мне нечего добавить к вашему ощущению сбывшейся мечты. Хотя.
Осознавая собственное величие и эпохальность данной публикации, всё же напомню, что слова простой человеческой благодарности всё ещё имеют ценность в этом остывающем мире. Пишите музыку, друзья!
Spectrasonics Stylus RMX (repacked by ka333ak) 1.9.6e [английский]
Лечение: в комплекте
Тип лекарства: кейген
Системные требования:
ОС — Windows XP/Vista/Seven
Процессор — 2.0 ГГц и выше
ОЗУ — 2 Гб минимум, рекомендуется 4 Гб и больше
Для установки требуется около 20 Гб свободного места на диске
Совместимое с VST 2.4 или выше приложение
Описание:
Spectrasonics Stylus RMX — один из лучших VSTi инструментов для создания партий ударных от компании Spectrasonics. Stylus RMX имеет 7.4 Гигабайтную библиотеку оригинальных качественных грувов и семплов. Данный продукт используют для создания широкого спектра современных музыкальных направлений. Виртуальный ударный инструмент Stylus имеет 8-частную мультитембральность и 8 стереофонических аудио-выходов. Он будет собенно хорош для таких стилей, как Hip-Hop, Trip-Hop, RnB, BreakBeat, Jungle, Pop и др. Звуковая библиотека Stylus RMX содержит тысячи Kit-модулей, а также пользовательский конструктор барабанных наборов. Мощный, быстрый и универсальный ударный инструмент Stylus RMX от компании Spectrasonics это залог успешного проекта.
В программе Стилус РМХ в Вашем распоряжении более 10000 отдельных семплов, распределенных по категориям. Присутствует возможность составлять свои собственные грувы и барабанные наборы, сохранять их в плагине и экспортировать для обмена между пользователями. Это первый расширяемый виртуальный инструмент Spectrasonics. Для него выпущена специальная серия из 5 модулей расширения S.A.G.E. Xpanders. Кроме того Stylus RMX может быть расширен за счет существующих на CD библиотеках Groove Control и файлов REX. Одно из главных нововведений продукта функция Chaos Designer™, позволяющая бесконечно варьировать проигрывание аудио-грувов, вплоть до ощущения полной импровизации. Степень вариативности задается простым набором регуляторов. С помощью функции Capture можно экспортировать запись исполнения в секвенсор в виде файла M >
[важно]
1. Счастливым обладателям новомодных систем типа Windows 7/8 следует производить установку плагина, библиотеки и обновления от имени администратора. То же касается запуска кейгена и хоста* при регистрации.
2. Даже если у Вас 256-битная Windows, во время установки плагина следует выбирать 64-битную версию ТОЛЬКО при наличии 64-битного хоста*.
3. Путь установки библиотеки должен содержать ТОЛЬКО латинские символы.
* хост, в данном контексте, НЕ операционная система, а программа, из под которой работает плагин.
Установка spectrasonics stylus rmx repacked by ka333ak
Stylus RMX Xpanded is an award-winning, industry standard groove-based virtual instrument plug-in. Stylus RMX Xpanded is the first product to offer the combined power of Groove Control® with Spectrasonics Advanced Groove Engine (S.A.G.E.™) technology giving users dramatic control over groove production and performance. Spectrasonics' in-house development team created the instrument from the ground up, with dozens of innovative features including the ground-breaking Time Designer®, Chaos Designer®, a completely redesigned multi-page user interface, a legendary core library of sounds, all with a focus on realtime groove creation and performance. RMX quickly became and remains an industry standard tool of most top composers and music producers.
Unsurpassed Innovations
Of the many remarkable capabilities in Stylus RMX Xpanded, possibly the most innovative features are the Time Designer® and Chaos Designer®. With simple controls, the user can introduce musical Chaos into the groove, which allows it to have constantly evolving variations— giving the impression that the audio grooves are improvising. The results can be subtle or extreme by setting the simple to use controls. A Capture feature allows the spontaneous audio chaos patterns to be made into a MIDI file, dragged and dropped into the host sequencer, and played back again for further editing by the user. The Time Designer feature is unmatched in any other rhythm software and allows realtime changing of audio grooves to any time signature, feel or pattern — an infinite creative tool!
Core Library
The highly acclaimed core library in Stylus RMX Xpanded has thousands of cutting-edge grooves and sounds that were created by Spectrasonics' international sound design team, and produced by Eric Persing. The core library contains nearly triple the amount of sounds originally offered in the original Stylus, and contains all the original material as well. The sounds and grooves in Stylus RMX Xpanded offer a much wider range of modern musical genres than the original Stylus. Mixes of grooves are broken down into individual tracks called Elements for flexibility and infinite combinations.
Also introduced in Stylus RMX Xpanded are thousands of Kit modules, 250 Kit patches, as well as user Kit construction. Users can create their own customized multitrack remix grooves and kits, save them into the plug-in, and even share them with other Stylus RMX Xpanded users on different platforms and hosts. RMX now even comes with 500 Multi grooves.
Xpanded and Xpandable
Stylus RMX Xpanded now includes all five Spectrasonics "S.A.G.E. Xpanders", bringing the total number of included grooves/sounds to nearly 10,000. The RMX platform has huge third-party library support with hundreds of available titles and can also can be expanded with REX files – which opens the door for musicians to utilize their own audio loops within the powerful S.A.G.E. Environment.
Where can I purchase Stylus RMX Xpanded?
Download sales and Upgrades are now available for purchase in our Webstore/Techshop. Physical sales (boxed with USB drive) are handled exclusively through our Authorized Resellers.
Is there an upgrade for Stylus Classic users?
Yes! If you already are an Stylus Classic customer, you are eligible for the Stylus RMX Xpanded Upgrade — available now in the Webstore/Techshop.
Is there a DEMO version of Stylus RMX Xpanded I can try?
Because of the size of our instruments, we don't offer Demo versions. However, you can contact one of our local dealers in your area in order to arrange a live demo of Stylus RMX Xpanded. To find a local dealer in your area, please contact your local Authorized Resellers.
How are Spectrasonics Instruments delivered to new users?
All Spectrasonics instruments are available in two different editions: Boxed and Download. The physical boxed editions now contain high quality USB drives and are sold exclusively to new customers through our Authorized Resellers. The download editions are now available and sold exclusively through our Webstore/Techshop.
Aren't Spectrasonics Instruments delivered on DVD-ROMS?
They used to be, but this is no longer the case. All our physical boxed versions have now been revised with high-quality USB drives. For convenience, we now also offer download sales of new Spectrasonics Instruments direct to customers from our Webstore/Techshop. Both of these new delivery platforms offer much faster and more reliable installations than DVD discs.
If I buy the Boxed version, will I also be able to get a download in the future? If I buy the Download Edition, will I also be able to get a drive? If I have the DVD-ROM edition, will I be able to get the drive or future downloads if I need them?
Yes to all of the above! We are happy to announce that there are now alternative forms of installation available optionally to registered users — no matter which edition you have originally purchased.
Spectrasonics is keenly aware that many users no longer have computers with optical drives and there are numerous scenarios when the convenience of downloading or the speed of a USB drive would be a preferred form of installation for different types of users. To address all the various user needs and scenarios, Spectrasonics has a new Support Services area that offers Alternative Installation USB Drives and Additional Download Installations for optional purchase. These services are available for purchase directly in our Webstore/Techshop for registered users.
How is the Upgrade delivered? Is it downloadable? How big?
The Stylus RMX Xpanded Upgrade package is a 14GB download which you can order through our Webstore/Techshop.
Is the Stylus RMX Xpanded Upgrade available as a physical product?
Not at this time. Our download service is highly reliable though. even with slower connections.
Where do I order the upgrade from? Can I get the upgrade through my local dealer?
Upgrades are available exclusively through the Spectrasonics Webstore/Techshop.
Can I download the upgrade?
Yes. The upgrade is now exclusively available as a download in our Webstore/Techshop.
Do I need to have Stylus Classic installed before purchasing the upgrade to Stylus RMX Xpanded?
No, but you will need to have authorized and registered Stylus Classic.
Is there a student discount price for Stylus RMX Xpanded?
Spectrasonics doesn't offer student discounts, however qualifying schools and institutions can participate in our EDU program.
Does Spectrasonics allow for used sales/license transfers of Stylus RMX Xpanded?
Please see the License Transfer FAQs area of the Knowledgebase for more info on our License Transfer Policy.
Can I upgrade if I bought a used copy of Stylus Classic?
Yes, but only if that copy of Stylus Classic has been properly license transferred through Spectrasonics.
If I upgrade my Stylus Classic to Stylus RMX Xpanded can I later resell and transfer the license of either instrument used to someone else?
No. Customers who participate in a special "legacy" upgrade program for any Spectrasonics virtual instruments are not eligible for license transfers either for the original instrument or its subsequent upgrade. For example, if an original owner of Stylus Classic takes advantage of our special legacy upgrade program to Stylus RMX Xpanded, the owner is not permitted to resell either instrument and no license transfer will be granted.
How large is the core library?
The Stylus RMX Xpanded core library is 5 times the size of Stylus Classic — over 14 Gigabytes! There are thousands of different grooves and sounds.
Is everything from Stylus Classic included in Stylus RMX Xpanded?
Yes, of course!
What's the total number of sounds/grooves in Stylus RMX Xpanded now?
Nearly 10,000!
Does it contain all the samples from the original Stylus Classic?
Yes! All the original core library samples and enhanced versions of all the classic Stylus Classic sounds are included.
Which libraries are included with Stylus RMX Xpanded?
The entire core library in Stylus RMX Xpanded is specially created for this virtual instrument. It also includes all five Spectrasonics SAGE Xpander libraries (Backbeat, Metamorphosis, Liquid Grooves, Burning Grooves and Retro Funk — all previously sold separately.) Also included is the "Bonus Spectrasonics" library — which includes all of the Vocal Planet and Bizarre Guitar Groove Control material, a large selection of loops from the Distorted Reality libraries and more previously unreleased material.
Is Stylus RMX Xpanded only useful for Electronic styles?
RMX stands for "Remix", so of course the focus of the core library is definitely on sound design and modern sonic elements. However, there is also a nice «hi-fi» selection of percussion loops and many single hit menus for use in many more traditional styles and the included Sage Xpander libraries have much more organic material. Because of the flexibility of Groove Control and the wide variety of single hits, Stylus RMX Xpanded has been successfully used in many traditional pop and rock settings too. There have been numerous hit records and filmscores that have featured the Stylus RMX core library in a vast array of genres. We'd recommend checking out the uses of Stylus RMX Xpanded on the audio demos page to hear it in a wide variety of styles.
Does Stylus RMX Xpanded have Kits and Playable sounds?
Stylus RMX Xpanded includes an extensive collection of over 250 hundred simple electronic Kits, over 3,000 kit modules and over 10,000 one-shot single hits in "Sound Menus" — all of which are great for creating your own completely custom rhythm tracks. The focus of the sounds are decidedly in the "modern remix" category. Although you won't find many "traditional" acoustic sounds with extensive multisampling, there is a nice section of acoustic percussion and some hi-fi cymbals too.
What is Stylus RMX Xpanded?
It's a Virtual Groove Module plug-in, which combines a massive 14 gigabyte core library with a powerful, yet easy to use interface for manipulating the sounds in unique and innovative ways. It includes all five Spectrasonics SAGE Xpander libraries (previously sold separately.)
So is Stylus RMX Xpanded basically a «preset» loop machine?
Not at all. The whole idea is to combine powerful flexibility, with an easy to use interface. You can easily think of RMX as the ultimate Groove creation machine! Because of the power of Groove Control™, you can easily create and manipulate your own grooves using the core library as a starting point for your own explorations. It is not an exaggeration to say that there are millions of possibilities. Stylus RMX Xpanded is designed to be inspiring for many years to come.
Is Stylus RMX Xpanded a Stand-alone app or a Plugin?
It's a plug-in that works in all the major DAWs and Plug-in hosts that support VST/AU/AAX/RTAS platforms.
What is S.A.G.E. Technology?
S.A.G.E.™ is our in-house core rhythm technology that is the foundation of Stylus RMX Xpanded.
What is the difference between the original "classic" Stylus and Stylus RMX? Xpanded
Stylus RMX Xpanded is a completely new instrument that has a new sound library, a new interface, many new features and is the first instrument to feature our in-house developed S.A.G.E. technology. It includes all the original sounds of the Classic Stylus plug-in, which is now discontinued.
So does Stylus RMX Xpanded replace Stylus Classic?
Yes, Stylus RMX Xpanded is Stylus Classic's successor.
What are the minimum system requirements for Stylus RMX Xpanded?
You can view them HERE.
Is it compatible with xxx?
Check our Compatibility FAQs in the Knowledgebase which we keep up to date with the latest info.
Will Stylus RMX Xpanded replace my Stylus Classic plug-in?
No. Stylus RMX Xpanded is a brand new plug-in.
Does Stylus RMX Xpanded use Copy Protection?
Yes, please see the Copy Protection FAQs area of the Knowledgebase for more information on our system.
What formats does Stylus RMX Xpanded import?
Stylus RMX Xpanded can import all the Groove Control® sample libraries and Propellerheads REX files as well. which vastly expands the capabilities of this instrument, since this opens up the potential of using your own audio loops and third party REX libraries.
Do I need a MIDI keyboard to use Stylus RMX Xpanded?
No, you can use it completely with a mouse if you want. However, it is faster to use and more inspiring if you also use it with a MIDI keyboard, since Stylus RMX Xpanded can be «performed» in real-time.
Does Stylus RMX Xpanded include a manual?
All our instruments include a comprehensive online Reference Guide, which is accessible directly through the plug-in. The integrated Reference Guide is searchable and we can keep it up to date with the software releases. You can check out the Reference Guide HERE.
How fast of a computer will I need to run Stylus RMX Xpanded?
Not very fast, but as with all virtual instruments — the faster the better. Stylus RMX Xpanded is designed to run optimally on modern computers. See the System Requirements for more information.
Does Stylus RMX Xpanded need as much CPU power as Omnisphere?
No. Grooves and rhythm require far less polyphony than most of the sounds in Omnisphere, and as a result typically require significantly less CPU power to run.
Is Stylus RMX Xpanded 64 bit?
Yes! All our instruments are 64-bit native on both Mac and Windows. They are fully-operational in 32 bit hosts as well.
Can I selectively install parts of the Stylus RMX Xpanded library since it is so large?
Because of patch compatibility, Stylus RMX Xpanded must always be installed with its complete core library. However, you can install the 14 Gigabyte library to a secondary or external drive if you wish.
Can I install Stylus RMX Xpanded on a different drive?
Yes, you can definitely install the library to a secondary or external drive.
Does Stylus RMX Xpanded have the same FX as Omnisphere?
Stylus RMX Xpanded contains all the same Effects as Omnisphere v1, but not the new FX added in Omnisphere 2.
*All other manufacturers' product names used in this instrument are trademarks of their respective owners, which are in no way associated or affiliated with Spectrasonics. These trademarks of other manufacturers are used solely to identify the products of those manufacturers whose tones and sounds were studied during Spectrasonics sound development.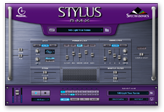 «Unquestionably the most powerful loop-based drum machine on the market….A must-have instrument for anyone looking to take their loops to a whole new level of flexibility.»
-Computer Music
«The first time I heard RMX the grooves just knocked me out. Once I started getting into Chaos, it was really incredible; There's such a variety.»
-Herbie Hancock
«An astonishing instrument. …incredibly versatile and well-featured instrument that will change the way you use loops and grooves forever. Essential for all computer musicians.»
-Music Tech
«Very impressive …RMX helps me to sketch a song in seconds and it sounds great. This is how I produced songs for the movie Slumdog Millionaire.»
-AR Rahman
«Probably the most intuitive software I've ever worked with, and is a constant source of ideas and inspiration. I'm a very satisfied user.»
-Bob James